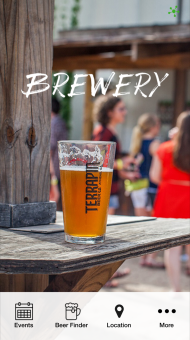 System X Designs worked with Terrapin Brewery to understand how they could enhance their marketing initiatives regarding the end-users of their craft beer. Through multiple working sessions we came to understand some goals that they wanting to achieve with the mobile and online marketing efforts, and we talked about some of the options that they could utilize in order to reach those goals.
The ideas that game about during these working sessions were feasible and readily attainable for the marketing team once developed in the app. For instance, one key initiative was to increase the number of tours that people went on inside their facility. To help reach this goal we developed a rewards/loyalty program that would allow users to get a "stamp" in the app each time they went on a tour. After a certain number of tours, they would be receive discounts on merchandise within their retail store. Because the app requires a code that only the employees know and after instituting an 18 hour check-in period (users can't check-in more than once in 18 hours to prevent program abuse), the program really ran itself and was "self-policing" in its implementation.
Another key initiative is their Beer Finder. By utilizing an API that is available through some distribution channels, we were able to develop a method for the end users to find Terrapin Beer anywhere near them. They can filter out whether they'd like it on Tap or in a Bottle and it will locate bars, restaurants, grocery stores, package shops, or gas stations in any given area that has their beer in stock. It's a fantasic way for end users to locate their favorite craft beers either near their home or while on the road.
As you can imagine, the Marketing team at Terrapin is already stretched pretty thin. They have many key initiatives and are among the fastest growing companies in their industry. As such, there was a repeated request that we minimize redundant or duplicate efforts for task driven events. What do we mean by that? Well- having an app is great, but it's also one more thing for the Marketing department to manage. Adding videos, events, photos, and more is an additional task that will take someone's time off of another task... Understanding this concern, we were able to improve their process and reduce duplicate efforts by any team member. We utilized API's that would sync their app automatically with the following ways:
If a user is logged into Facebook or Twitter, they are automatically logged in to the Terrapin App
If they add a photo to Instagram, it automatically gets added into the photo gallery of the app
If they add a video to YouTube, it automatically gets added into the video gallery of the app
If they add an event to Facebook, it automatically gets added into the Events section of the app
If they update a page or description on their website, it will automatically get updated in the app
This helped them to reduce redundant marketing efforts which saves them both time and money.
We have thoroughly enjoyed working with Terrapin and look forward to watching their company and mobile application continue to thrive.