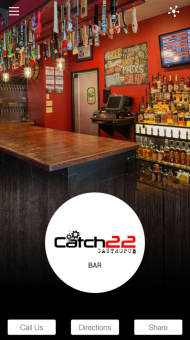 Let it be known that Catch 22 Gastropub was the first restaurant in Athens, Georgia with a native mobile application for both Android and iOS devices! Their app serves as a staple of their marketing to make customers come back on a regular basis. At Catch 22, they know that their marketing dollars and efforts go 7x further when directed on growing existing customers as opposed to targeting new customers.
Their loyalty program offers multiple incentive levels as follows:
5 restaurant visits = Free Appetizer or Dessert
10 restaurant visits = 15% off total tab
20 restaurant visits = 30% off total tab
In order to get some of that low-hanging fruit from repeat customers, they implemented the following features in their mobile application:
Location Information (call, turn-by-turn directions) for both their Athens and Helen location
Menu Information
Beer Menu (they are known for craft beer, and their taps rotate every other day)
Automatic import of Facebook events
Automatic import of Instagram photos
Tip Calculator
GPS Coupons for special events
Not only do we we appreciate their ongoing support and business, but we also regularly enjoy their fantastic food and awesome craft beer selection at both locations.